Days to the Submission Deadline
Important Dates

Submission

Nov. 5, 2018

Notification

20-40 days after the submission

Publication

30-60 days after the final edition

Conference

Dec. 17-19, 2018
Contact Us


Telephone: 021-51098086

Cell Phone: 0086-18917219762

QQ: 2934920393

WeChat: 18101720867
Weather Forecast of Xi'an, China during the Conference
【Dec. 11, 2018】
The following is the weather forecast of Xi'an, China during the Conference, which will be updated regularly.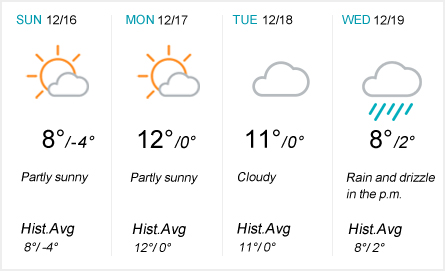 To know more details, please visit:
https://www.accuweather.com/en/cn/xian/106566/weather-forecast/106566
Tourism Route for ICCIVIL2018 is Available Now
【Nov. 8, 2018】
ICCIVIL2018 will be held in Xi'an, China, during Dec. 17-19, 2018. Dec. 17, 2018 is the registration time, Dec. 18, 2018 is the keynote session and panel session for the conference, and Dec. 19, 2018 is the time for the tourism. And here is the tourism route on Dec. 19, (from 8:00AM to 17:00PM):
Terracotta Warriors(兵马俑)--- Big Wild Goose Pagoda(大雁塔)---Ancient City Wall(西安明城墙)--- Xi'an Muslim Food Street(回民小吃街)
Learn more: http://www.iccivil.org/2018/venue
ICCIVIL2018 Will Be Held Together with ICEEES2018 and ICAUP2018 at the Same Venue
【Nov. 6, 2018】
Due to the relevance among the topics of ICEDUIT2018, ICEEES2018 and ICAUP2018 , as well as the number of the conference participants, ICCIVIL2018 will be held together with ICEEES2018 and ICAUP2018 on Dec. 18, 2018 in the same venue at Holiday Inn Xi'an Big Goose Pagoda.
ICCIVIL2018 Call for Papers
【Jan. 15, 2018】
2018 3rd International Conference on Civil Engineering (ICCIVIL2018) invites original and unpublished papers. The papers may include but are not limited to:
Civil Engineering: Materials Science and Engineering, Coastal Engineering, Construction Engineering, Earthquake Engineering, Environmental Engineering, Geotechnical Engineering, Water Resources Engineering, Structural Engineering, Surveying, Transportation Engineering, etc.
If you have any interest, please submit your paper via the submission system: http://www.papersubmission.net